Last weekend, LV and I treated ourselves for a "buka puasa" at Kluang Station over at Ikano Power Centre, Mutiara Damansara. LV loves the atmosphere and the taste of toasted bread and Nasi Lemak there. I just eat whatever I can find at the shop but I do notice the unique delicious taste of their food. Anyway, after having our "buka puasa" meal, we decided to take a look around for our usual "window shopping". I then spotted a new store just upstairs from where we were. It's a brand new All IT Hypermarket outlet. Being an IT enthusiast although I am a bit thrifty on my spending, I walked into the store to fulfill my "window shopping" desires.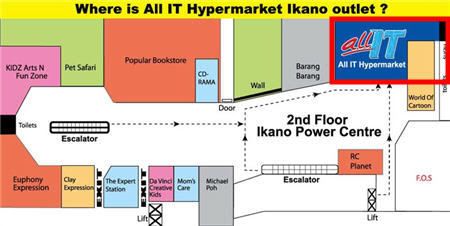 All IT Hypermarket Floor Plan at Ikano Power Centre
It was then I spotted this:
Creative HQ 1400 at All IT Hypermarket Ikano Power Centre Mutiara Damansara
The thing was, I was told in the previous marketing research activity that the product is not yet available in the market. This has proven to be wrong. However, at least I had the price suggestion just right.
Look at the other one I found:
Creative EP 570 at All IT Hypermarket Ikano Power Centre Mutiara Damansara
I thought that for this piece of annoying ear clip headset, it wouldn't be such expensive. For RM79, I will not definitely even thinking about buying this one. Oh well, enough about the ranting these product and enjoy what I have right now.