I'm writing this post using my brand new upgraded WordPress 2.5 platform. I find it good enough although I do missed the big old dashboard that has all those big fonts. Anyway, last week Thursday night there was another webinar which I've forgotten that I've already signed up to attend it online. I just realized about it the last minute when I suddenly received a reminder e-mail just before the online webinar was about to start.
Since the webinar was organized by Citrix, the organizer had everybody attending to install their software in order for them to show their presentation slides. Unfortunately, the audio is only accessible by dialing a toll free US number. Again, I used Skype for this purpose. It was interesting despite living in Malaysia, I have the same facility as what my counterpart in the US have. I just love being online on the World Wide Web. Here's a screenshot of my desktop setup. (For those of you who like to analyze what type of person I am, you can see what application I have on my desktop as well *wink*)-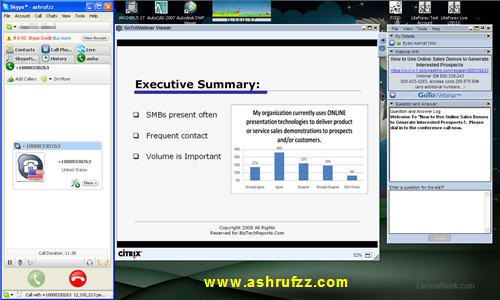 My Desktop Preview
I love how the Citrix online presentation flow was handled. I've been to a lot of presentation from my experience attending talks, seminars and webinars and normally I can spot which presentation can attract my interest. This one, eventhough I can't see the speaker's face, the presentation style is quite good plus there wasn't so much of a hard selling effort. Here's an interesting slide I've taken from my desktop screenshot while hearing to the webinar: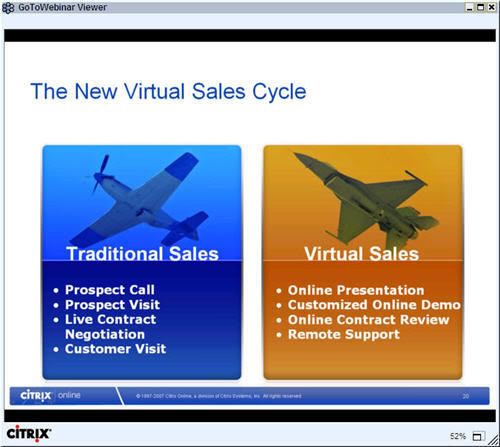 Citrix Online Webcast
Last year in December, I attended an online presentation meeting with a Canada based company. They use Adobe Connect to perform their slideshows and again Skype as the main audio communicator. That was my first time I've ever experienced a one to one online sales presentation and it opened my eyes to a whole lot more the usability of the web. I recorded everything using Camtasia software for my keeping.
An interesting perspective here is, not everybody is exposed to this new technique of doing demo presentation live on the internet. It might be useful at some point but there is so many technical aspect to take care of, at least initially. Anyway, the future of doing web conferencing online looks quite promising and I do look forward paying attention to it very closely.