My car was overdue for its scheduled service. I was supposed to send it for a pit stop every 5,000km but since I just got myself a new mileage meter replacing the broken one, I think I've clocked almost 10,000km already. Anyway, being a loyal customer to a particular service shop, I sent my car for a service job at my usual car service workshop, Fasfik Kepong branch.
Unlike my previous two visits to the same branch before, there was only one guy attending me for my car's service job. Then I saw this:
Taking a closer look at the screen:
Ashrufzz Reality Adventure Snapshot at Fasfik Kepong Branch
It's my picture featured on the main computer inside the workshop. I was overjoyed, at least my blog name is visible. One of the Fasfik owners commented on one of my Fasfik review recently. I guess I must have made a good impression to them..hehe..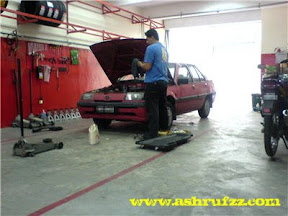 My Car Third Service Pit Stop @ Fasfik Kepong
I had a chat with the one and only mechanic at that time, he revealed some surprising and appalling information. All the other Fasfik crew of Kepong branch had left. He himself was from another neighbor Fasfik branch being assigned there to bring the service shop branch back to life. From a management point of view, I can understand why they only give basic salary to the crew. I can also understand how a life of mechanic is since I was a car mechanic trainee during my years of studying automotive engineering. I guess you need to love your job in order to stay long in your career. Even I myself has job hopped so many times before landing to something I really love doing.
During my last visit, the branch ran out of Fasfik engine oil so I had to resort to the expensive Shell Helix engine oil. This time, I guess there was an oversupply of Fasfik engine oil. Basically, it's just a basic engine oil being labeled.
Fasfik Engine Oil Product
I don't know why, but I just love packaged product. It makes me feel as I'm buying a bargain deal rather than the expensive customized service.
Fasfik Line of Packaged Products
This visit cost me RM50 for an engine oil change job along with a free engine oil filter and regular check of my car.