It has been over a month after I got my hand on my latest new gadget, my HTC Touch. I've always been keen to have a Windows Mobile device. There is one lying around my house which belongs to my dad and he's not using it. However, the device is bigger than my handphone and the features and the battery is not up to my use so my brother is toying around with it. Recently, my dad bought himself a cheap chinese made TV-PDA phone which he found somewhere in Dubai, he wanted to sell off his HTC Touch. I immediately said I wanted it but of course I'll pay for it later.. ;-)
The best thing I found out about HTC Touch is its lightweight, running on Windows Mobile 6 Professional, the battery's life is not bad and the touch screen is just something cool. Of course if you compare that to an iPhone, the iPhone is way much cooler. However, the iPhone is more expensive plus there is a lot of softwares that I need doesn't work in iPhone. The only downside in terms of network connectivity is my HTC Touch is running on EDGE and doesn't have 3G connection. Because of that, I choose to subscribe to DiGi HighSpeed Mobile Access with Data Unlimited Plan. I'll cover my experience using DiGi Internet service in my next blog post.
At first I wanted to replace my Sony Ericsson W810i to this HTC Touch. Unfortunately, I found out that typing SMSes using the HTC Touch is so difficult and required precise touching of the screen for the right alphabet to appear. It then became clear that the HTC Touch can only be my second gadget in my pocket.
Thanks to my brother who is using Windows Mobile much earlier than any person I know tip me on a great mobile browser call Opera Mini. I once used my boss's iPhone and recalled how the browser on his iPhone could just slide, zoom in and out. It was so cool, little that I know this browser installed on my HTC Touch could do the same.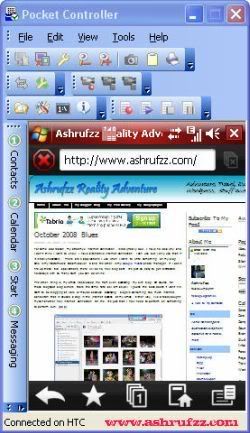 Another application that I like to use is Google Maps for Mobile. Since my HTC Touch doesn't have GPS, the My location function which tells me the nearest node of my DiGi coverage as you can see on the dot on the screenshot below:
The star is my favourite places where I used to hang out. It can also be used to estimate the distance of location where I intend to go and show me the route to go there. This is the best application I always run whenever I am hitting the road. If you noticed on the screenshot, I am using a Pocket Controller software. This way, whenever my HTC Touch is connected to my laptop, I don't have to tap the device using my hands anymore. It can work with my mouse and keyboard. Simply genius..
I guess I am becoming more of into gadget junkies with so many electronics I have on my hands. Got to keep on getting more and more resources to fuel my hunger of information technology.