Several weeks ago before I went to UTHM, a friend of mine Daniel CerVentus messaged me and told me he was looking for volunteers for an event call "BarCamp". I asked him, "What's BarCamp?". He then led me to some links and after reading it over and over, I still couldn't figure out what BarCamp is. I think I can only describe it when I go for the event itself. Anyway, I missed their first volunteer meeting and I don't think I can commit on becoming a volunteer.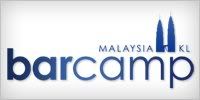 Basically, it's not that I can't understand what it's all about. It's basically an event where people with like minded geeks gather around and share or maybe show off something to the rest of the people. Now that makes me wondering, what am I going to share? I'm not a programmer nor am I a software developer. I just happen to be very good in putting things together and make it work.
Last week, I decided to drop by The Garden Midvalley and take a peek and spy what the volunteers are doing. My intention wasn't to join the volunteer group but just to give myself a reason to visit the brand new The Garden shopping mall. Here is where the BarCamp Malaysia volunteer meeting was held:
BarCamp KL Volunteer Hang Out Place @ Starbucks The Garden Midvalley
The event will be held next on July 26 – 27 at xTrain in KL. Khai Lee explanation of BarCamp is the best I've read. If you are interested to meet me, I'll be there on the 26th since I have a weekly commitment every Sunday morning. Make sure you register first.
See you there!